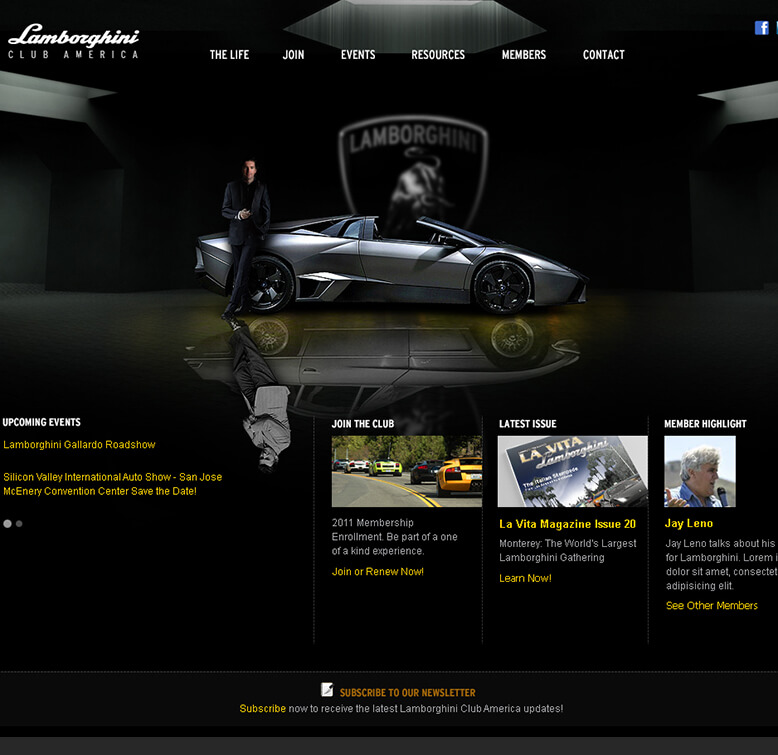 App/Web Development
Back-end Development
Content Management System (CMS)
Deployment
Digital Strategy
Front-end Development
Infrastructure & DevOps
Performance Optimizations
Platform Implementation
SEO
Staff Augmentation
Technical Consulting
Wordpress
Lamborghini Club America
Founded in 1975, Lamborghini Club America is the world's largest organization of members representative of Lamborghini owners and enthusiasts.
Project Goals
Lamborghini Club America needed to refresh the club's digital presence with a high-quality enterprise-level website. The site needed to convey the legacy of unparalleled performance of Lamborghini cars, while staying true to it's classic luxury brand style. In addition, the LCA's business requirements included:
Secured and ease of content management
Optimized site performance for increased audience reach
Increase paid memberships by streamlining on-boarding workflow and ease of payment for new users
Ability to promote and manage club events
Capability to manage promotional partnerships through ad sales
Capability to allow for classified listings to cater to secondary market users
Delivered Solutions
Solution Fuse was sought to deliver the re-branded site and to help LCA's achieve their goals. We were able to build and customize the backend of the WordPress CMS to allow for easy management of vehicle galleries; added capability to allow for online member signups and payments through API integrations of payment portals. We integrated our customized events functionality to allow LCA to manage member and community events with ease. But most notable, was our customized solution to allow for members to list, promote, and sell their used Lamborghini vehicles directly on the site. The site was delivered fully performance optimized by utilizing development best practices, such as through object caching and compression.
Impact
With the debut of the new site, Solution Fuse was able to help Lamborghini Club America breathe new life and renewed interest into their club by meeting their strategic goals. Existing members were reassured that their beloved club is committed to continuing providing exceptional member benefits, while prospective members were eager to join a thriving community reflective of the luxury brand reputation, high-end clientele expects.
View Site